Your ads will be inserted here by
Easy Plugin for AdSense.
Please go to the plugin admin page to
Paste your ad code OR
Suppress this ad slot.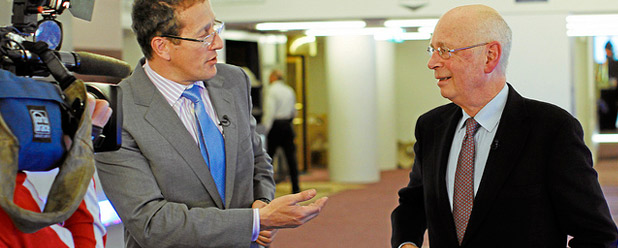 Ha comenzado la 42 edición del Foro Económico Mundial (WEF) que se realiza en Davos, Suiza y que tendrá este año su epicentro en la actualidad que soporta el euro, y la crisis que afecta a la Unión Europea (UE), su repercusión en la económica global y el grave problema del empleo.
Más de mil seiscientos presidentes de grandes compañías y alrededor de 40 jefes de Estado o de gobierno participan en esta edición del Foro Económico Mundial.
Agenda Davos 2012
Miércoles 25 de enero (horario de Europa)
09:00 Davos 2012 – TIME Davos Debate on Capitalism
10:45 Davos 2012 – The Global Business Context
11:00 Press Conference: Opening Press Conference with Co-Chairs
13:00 Davos 2012 – World Economic Brainstorming
14:00 Press Conference- Briefing with Ken Watanabe
16:15 Press Conference: Addressing Transport Risks and Securing the Global Supply Chain
Jueves 26 de enero:
1-  One-on-One An Insight, An Idea with Michael E. Porter
A conversation with strategy expert Michael E. Porter on his breakthrough idea to transform the role of business in society by creating shared value.
2- Interactive Session The Power of Film
"To accomplish great things, we must not only act but also dream. Not only plan but also believe."
– Anatole France
French screenwriter, director and Crystal Award winner Luc Besson shares his passion for conveying powerful messages and inspiring action through film.
3- Beta Zone Artwork through Network
How is social media disrupting the art world?
Dimensions to be addressed:
Virtual collaboration in performing arts
Literature in an era of online publishing
A redefinition of the artist's relationship with the public
4- Interactive Session A Smart Growth Solution
How can technological advances drive economic growth and employment?
Dimensions to be addressed:
Integrating breakthroughs into markets
Creating enabling innovation environments
Examining the consequences of the failure to respond
5- Interactive Session The New Business Mindset
What critical societal, stakeholder and regulatory concerns are reshaping the mindset of business?
Dimensions to be addressed:
Aligning short-term interests and long-term goals
Incentivizing responsible conduct
Understanding the changing nature of corporate ownership
6- Interactive Session Pain and Gain: Prosperity with Austerity?
How will economies achieve sustainable employment growth in an era of consumer deleveraging and fiscal austerity?
Dimensions to be addressed:
Understanding the impact of austerity on European employment
Identifying structural versus cyclical remedies
Considering the future of public sector employment and social protection systems
Rethinking the role of infrastructure development
7- Interactive Session Ensuring Food Security
How are new models of collaboration and innovation driving investment in food and nutrition security?
Dimensions to be addressed:
Refocusing and redirecting investment flows
Understanding new sources of influence in the food security arena
Producing sustainable and climate-resilient food
This session is linked to Forum initiatives and communities. Lisa Dreier is available to brief
participants.
8-Interactive Session Manufacturing for Growth
How can the manufacturing sector transform growth and employment?
Dimensions to be addressed:
The effect of industrial policies
The potential of advanced manufacturing
Emerging manufacturing hot spots
9- Interactive Session Rethinking Islam in Politics
The influence of political Islam on state governance is both rising and wide-ranging. What ideological and organizational models are exerting the greatest influence today?
10- Interactive Session Russia Outlook
What will the political, social and economic landscape for Russia in 2012 be?
Dimensions to be addressed:
Assessing the prospects for political and financial reforms
Fostering innovation and entrepreneurship
Strengthening institutions and the business environment
Simultaneous interpretation in English and Russian
11- IdeasLab Leveraging Human-Machine Collaboration with Carnegie Mellon University
How will new forms of human-machine collaboration help improve our lives?
Join the IdeasLab to discover and debate:
Idea 1: Security in digital infrastructure
Idea 2: Intelligent machines: When computers read
Idea 3: Companion robots and the workplace of the future
Idea 4: Children and the digital world: Partners in learning
12 – IdeasLab Forging Wiser Leaders with Harvard University
How can new approaches lead to wiser leadership in decision-making?
Join the IdeasLab to discover and debate:
Idea 1: Shifting from irrational choices to evidence based policy-making
Idea 2: Creating tools for value-based management
Idea 3: Discovering the ethos of leaders from the East
Idea 4: Translating insights from behavioural science into action
13- TV Debate Putting China's Trillions to Work
With the global community turning increasingly to China as the lender of last resort, how can China best deploy its massive current account surplus and private capital without triggering a backlash at home or abroad?
In partnership with the World Economic Forum, CCTV hosts this debate on the role of China's capital abroad.
Simultaneous interpretation in English and Chinese
14- WorkStudio Leading under Pressure
How can leaders make better decisions under pressure?
Dimensions to be addressed:
Gaining insights from successful leaders
Exploring the impact of high stake, high pressure environments on decision-making
Overcoming decision paralysis
15 -One-on-One An Insight, An Idea with Michael Spence
A conversation with economist and Nobel laureate Michael Spence on his breakthrough idea on globalization and unemployment.
16- Interactive Session Engaging the Community with Music
"Music doesn't lie. If there is something to be changed in this world, then it can only happen through music." – Jimi Hendrix
Japanese American violinist and Crystal Award winner Midori changes lives around the world with the power of music.
17- Beta Zone Dark Forces at Play
Saul Perlmutter, 2011 Nobel Prize laureate in physics, uncovers how dark energy and the accelerating universe will decide the ultimate fate of our universe.
18 – Plenary SessionAfrica — From Transition to Transformation
As the region's political and economic evolution accelerates, what leadership and governance models will meet the people's expectations for the future?
Dimensions to be addressed:
Strengthening governance systems
Investing in commodity wealth long term
Fostering stronger national and regional identities
Simultaneous interpretation in all languages
19 – One-on-One An Insight, An Idea with Yasuchika Hasegawa
A conversation with Annual Meeting Co-Chair Yasuchika Hasegawa on his breakthrough idea on creating sustainable health systems for ageing populations.
20 – Plenary Session Special Address
21- Plenary Session Olympic Games 2012 — Celebrating the Six-Month Countdown
A memorable moment to mark the six-month countdown to the Olympic Games with participants of the Annual Meeting 2012
22- Exhibit Art Walk II
Michael Wolf leads a guided tour of his art in the Congress Centre to share his unique interpretation of "Traditions in Contemporary Art".
23- Interactive Session Introducing the Open Forum
24- Interactive Session Responsible Leadership in Times of Crisis
In an era of rapid change and complex crises, leaders need to be able to make bold decisions quickly. Yet they often struggle to take the action needed to tackle economic, political and social issues, allowing their judgement to be clouded by short-term policies aimed at winning elections.
How can decision-makers be motivated to lead rather than follow the consensus?
With cronyism and corruption holding back growth, what can be done to improve the way leadership works?
How will social media change leadership in the future?
Should the media be held more accountable for their influence on leaders?
25 – Interactive Lunch Session Maximizing Infrastructure Returns
How are emerging economies maximizing the social and economic returns from infrastructure?
Dimensions to be addressed:
Tackling over- and under-investment challenges
Enhancing public-private coordination and risk-sharing
Prioritizing through life-cycle assessments
26 – Interactive Lunch SessionEmerging Technologies and Ethical Dilemmas
What ethical issues do emerging health technologies and their applications raise for humanity?
Dimensions to be addressed:
Genetic information and privacy
Bio-engineering: from artificial blood to organs
Cognition-enhancing drugs
Equality of access to treatment
27 – Interactive Lunch Session Fostering Intrapreneurship
How do large organizations cultivate and maintain an entrepreneurial edge?
Dimensions to be addressed:
Rethinking culture and incentive mechanisms
Reconnecting with the labour force
Examining the scalability of entrepreneurial structures
28- Interactive Lunch Session The Olympic Games: More than a Medal
In the final countdown to London 2012, what winning models for driving sustainable economic growth can be drawn from the Olympic Games?
Dimensions to be addressed:
Defining success for London 2012
Aligning public policy with corporate interests
Driving new product and service innovation
Determining the long-term social and economic impact of the Games
29 – Interactive Lunch Session New Models for Ageing Societies
How can strong foundations be put in place now to smooth the transition to an ageing society?
Dimensions to be addressed:
Examining the changing composition of workforces, consumers and voters
Remodelling healthcare and pension systems
Redesigning urban and living environments
30 – Interactive Lunch Session Connecting the Americas
What new cooperation models in the Americas will promote growth and development in the region?
Dimensions to be addressed:
Remodelling trade relations, investments and infrastructure
Tackling poverty, unemployment and security challenges
Developing the trans-Pacific connection: cross-regional cooperation
31- Interactive Lunch Session Rethinking the Role of Religion
In a world facing economic crises and social change, what is the role of religion in building a robust global society?
Dimensions to be addressed:
Engaging in political debate
Addressing gaps in social services
Defining values frameworks and influencing behaviours
32 – Interactive Lunch Session A Nordic Model for the World?
Can the lessons learned from the Nordic experience be applied globally to spur growth and employment?
Dimensions to be addressed:
Fiscal consolidation and strategic investments
Banking system reform in the wake of crises
Relations between employers and labour unions
33 – Interactive Lunch Session US Competitiveness: A Wake-up Call
How should the US reaffirm its global competitiveness? Join Michael Porter for a presentation and discussion on key findings from a breakthrough study on US competitiveness.
34 – Interactive Lunch Session Reshaping the Climate Agenda
After Durban, what is the new agenda for the global fight against climate change?
35 – TV Debate The Implications of the Arab Spring
How is the Arab Spring impacting economic and political relations across the region and globally?
In partnership with the World Economic Forum, Al Arabiya hosts this live debate on the future of the Arab world.
36 – One-on-One An Insight, An Idea with H. W. Brands
A conversation with political historian H.W. Brands on his breakthrough idea on the future of US foreign policy.
37 – Beta Zone Deep-sea Discovery
Deep-sea diving record-holder Sylvia Earle unveils the treasures and tragedies hidden in the depths of the ocean.
Your ads will be inserted here by
Easy Plugin for AdSense.
Please go to the plugin admin page to
Paste your ad code OR
Suppress this ad slot.
38 – Interactive Session Learning from the Frontier
How are emerging markets reshaping technologies and business models?
Dimensions to be addressed:
Examining the role of innovation hotspots
Enabling and scaling frugal innovation
Translating and adapting innovation
39 – Interactive Session Adapting to Climate Risk
How are communities, companies and countries adapting to the risks presented by climate change?
Dimensions to be addressed:
Assessing the impact of climate change risk
Weathering chronic floods and droughts
Integrating climate adaptation into development plans
Financing climate adaptation
40 – Interactive Session Street Culture: Revealing the Cracks
How can social inequalities and divided communities be reconciled through art and sports?
Dimensions to be addressed:
Foreshadowing political upheaval
Revealing poverty and exposing intolerance
Creating a common language
41 – Interactive Session Reshaping Healthcare Models
How can businesses and governments work together to improve the health of citizens in a more cost-effective manner?
Dimensions to be addressed:
Identifying new modes of healthcare delivery and funding models
Shifting investment and attention from treatment to prevention
Turning fiscal crises into opportunities for innovation
This session is linked to Forum initiatives and communities. Olivier Raynaud is available to brief participants.
42 – Interactive Session The New Context in China
What critical economic, political and societal issues are defining the new context for decision-makers in China?
Dimensions to be addressed:
Emerging Chinese consumers
Risks to domestic economic reform
Social transformations
43 – Interactive Session Davos Debate on Globalization
Has globalization finally reached its economic and political limits?
44- Interactive SessionRebuilding Europe
In the wake of its structural and political challenges, what will the future form of Europe take?
Dimensions to be addressed:
Rethinking the role of the European Commission and Council
Ensuring cohesiveness in a two-speed Europe
45 – Interactive Session Complexity and Crisis: The Case of Japan
On 11 March 2011, Japan experienced a sequence of natural disasters of unprecedented scale, triggering its biggest nuclear crisis. In this session, a senior Japanese leader who was central in the rescue operation effort reflects on his experience confronting the most challenging and complex crisis to strike Japan in its post-war history.
46- IdeasLab Shaping New Models of Development with the Global Agenda Councils
What short-term solutions can tackle long-term challenges in development?
Join the IdeasLab to discover and debate:
Idea 1: Projecting the end of extreme poverty
Idea 2: Levelling the education playing field on a global scale
Idea 3: Facilitating development using robotics and smart devices
Idea 4: Investing with social impact
Idea 5: Managing the water crisis through entrepreneurship
47 – Workshop Employment for Growth: One Challenge, Six Solutions
What bold ideas and actions can spur employment and economic growth?
Dimensions to be addressed:
Engaging youth
Mining the experience of the mature workforce
Revitalizing education and training
Creating new businesses
Highlighting entrepreneurship and innovation
Mobilizing skills and talent
48 – One-on-One An Insight, An Idea with Kishore Mahbubani
A conversation with diplomat and author Kishore Mahbubani on his breakthrough idea on how Asian wisdom can complement Western thinking.
49 – TV Debate AP Debate on Democracy
Are the democratic institutions of the 20th century fit for the 21st?
In partnership with the World Economic Forum, AP hosts this debate on democracy.
50 – Interactive Session Songs of Hope
"Music expresses that which cannot be said and on which it is impossible to be silent." – Victor Hugo
South African singer and Crystal Award winner Yvonne Chaka Chaka empowers communities in the fight against diseases and poverty.
51 – Interactive Session Prospects for Peace in the New Middle East Context
52 – Interactive Session The Coming Great Shift
How will an anticipated rebalancing of the global economy reshape growth models across export-driven and consumption-driven economies?
Dimensions to be addressed:
Changing competitive advantages
Integrating the global resource market
Creating enabling policy environments
53 – Interactive Session The Education-Entrepreneurship-Employment Nexus
What new education models will address supply and demand gaps in dynamic talent markets?
Dimensions to be addressed:
Understanding the future demand for labour
Fostering entrepreneurial education
Reinventing curricula to fill the talent gap
54- Interactive Session The Ocean Solution
With the health of mankind closely linked to the health of oceans, how can growth and development be reconciled with conservation?
55- Beta Zone Human Network Dynamics
How is big data being used to uncover individual and collective human dynamics?
Dimensions to be addressed:
New measurement paradigms
Patterns of individual and collective human behaviour
The role of diversity and outliers
Societal impact
56 – Interactive Session Risks in a Hyperconnected World
Incidents from digital crime to massive incidents of data theft are increasing significantly, with major political, social and economic implications.
This session examines risk management and risk resiliency in this new context and builds from a related initiative of the Risk Response Network and the Information Technology Partnership community.
57 – Interactive Session Forging Ahead: The United States in 2012
With partisanship worsening despite the record-low approval rate of politicians, what can the United States realistically accomplish with respect to the country's domestic and international priorities in 2012?
58 -IdeasLab Hyperconnectivity — Harvesting Globalization and Limiting Systemic Risk with Oxford University
In today's hyperconnected world, what collaborative models are emerging to solve global issues?
Join the IdeasLab to discover and debate:
Idea 1: Hyperconnectivity, creativity and collapse
Idea 2: Pandemics — More connection, more risk?
Idea 3: Supply Chain — Building resilience, mitigating risk
Idea 4: Data deluge and citizen science
Idea 5: Governance for a complex world
59 – WorkStudio Liberation Arts and Community Engagement
"As we all know, it is not enough to interpret reality: it is necessary to transform it!" – Augusto Boal
What role can theatre techniques play to challenge the limitations of dialogue and inspire new perspectives for education, therapy and social change?
60 – One-on-One An Insight, an Idea with Cardinal Turkson
A conversation with Cardinal Peter Kodwo Appiah Turkson on his breakthrough idea on reforming the international financial system to cater for society's needs
61 – Workshop Remodelling Europe
As the region endeavours to break out of its political and economic crisis, what is the future of the European project?
Dimensions to be addressed:
Growth, innovation and job creation
The crisis of the European state and its political economy
Public support and the politics of change
Possible answers beyond Europe's borders
This session is linked to Forum initiatives and communities. Stephen Kinnock is available to brief participants.
62 – Interactive Session The Outlook for East Asia
63 – Interactive Session SOLO – Bach Suites Exhibited
"A painter paints pictures on canvas. But musicians paint their pictures on silence." – Leopold Stokowski
In the first of two performances, renowned French cellist Augustin Maurs changes the way we experience music by playing the suites of Bach in a pitch-dark room.
64- Interactive Session Other Faces of Leadership
"A 'no' uttered from the deepest conviction is better than a 'yes' merely uttered to please, or worse, to avoid trouble." – Mohandas Gandhi
Portrait photographer Platon unveils powerful images of leadership from civil society in Egypt, Myanmar and Russia.
65 – Plenary Session Global Economic Crisis: Role and Challenges of the G20
66 – Plenary Session Special Address
67 – Interactive Session Averting a Lost Generation
How can the current generation of young people reach their full potential despite the economic challenges ahead?
Dimensions to be addressed:
Understanding the potential of the next generation
Tackling the youth employment crisis
Investigating the role of the "demographic dividend"
68 – Film Projection Film Screening of "Women, War and Peace"
Join a special screening of "Women, War and Peace", followed by a compelling discussion about how women around the world are emerging from the shadow of violence to play a crucial role as
peacemakers at the negotiating table.
69 – Interactive Session Touching the Past — One Sonata, Two Eras' of Musical Instruments
The same piece (Ludwig van Beethoven Sonata for Cello and Piano, Op.5, in G Flat (1796)) will be played on historic and modern instruments. It will be played twice. Among the instruments used in both performances are two hundred years of social, technical, musical and artistic development. The juxtaposed instruments will open ears, perceptions and feelings towards music.
70 – Interactive Dinner Session The Investment Heatmap 2012
In this interactive simulation, explore how entrepreneurs and corporations can attract scarce financial and human capital to stimulate growth.
Dimensions to be addressed:
The most attractive industry sectors
Corporate structures for growth and innovation
The implications for entrepreneurs and large multinational firms
71 – Interactive Dinner Session Revitalizing Art
How can the arts help communities recover from tragedy and regain hope?
72 – Interactive Dinner Session Educating Leaders: New Models for Universities
How are new forms of collaboration among universities around the world shaping tomorrow's leaders?
73 – Interactive Dinner Session Experiencing the Extreme
What do experiences in the extreme teach us about human nature?
74 – Interactive Dinner Session The New European Identity
From the Dark Ages to the Renaissance, from the Cold War to regional integration, Europe has time and again reinvented itself. What will emerge as the European identity in the 21st century?
75 – Interactive Dinner Session Shared Opportunities for Africa's Future
How will Africa's leaders achieve quality growth and shared opportunities for the continent's youth?
76 – Interactive Dinner Session Managing Chaos
How can the emerging science of complexity help foster creativity while managing chaos?
77 – Interactive Dinner Session The Story of an Author
Join Paulo Coelho to find out how the relationship between author and reader is evolving and transforming the art of storytelling.
78 – Interactive Dinner Session Great Transformations in China
What five key domestic or global transformations will most impact China in 2012?
79 – Interactive Dinner Session The State of the World with Nobel Laureates
Join Nobel Prize winners for a conversation on the state of the world and the key imperatives for 2012.
80 – Nightcap Nightcap with the Gémeaux Quartet
Join this exclusive concert with the Gémeaux Quartet and unwind after dinner to the classical works of Mozart and Mendelssohn.
Podrá seguirlo en vivo desde este enlace.
Related Posts via Taxonomies